Seim/Rothenberg at Bergen Kjøtt 17. Dec 2016
Happy new year! There is reason for celebration, since just before Christmas, the Duos Project had its first session in front of an audience, with me and David Rothenberg playing a concert at Bergen Kjøtt on December 17th. This will be the first of many shows, I should hope!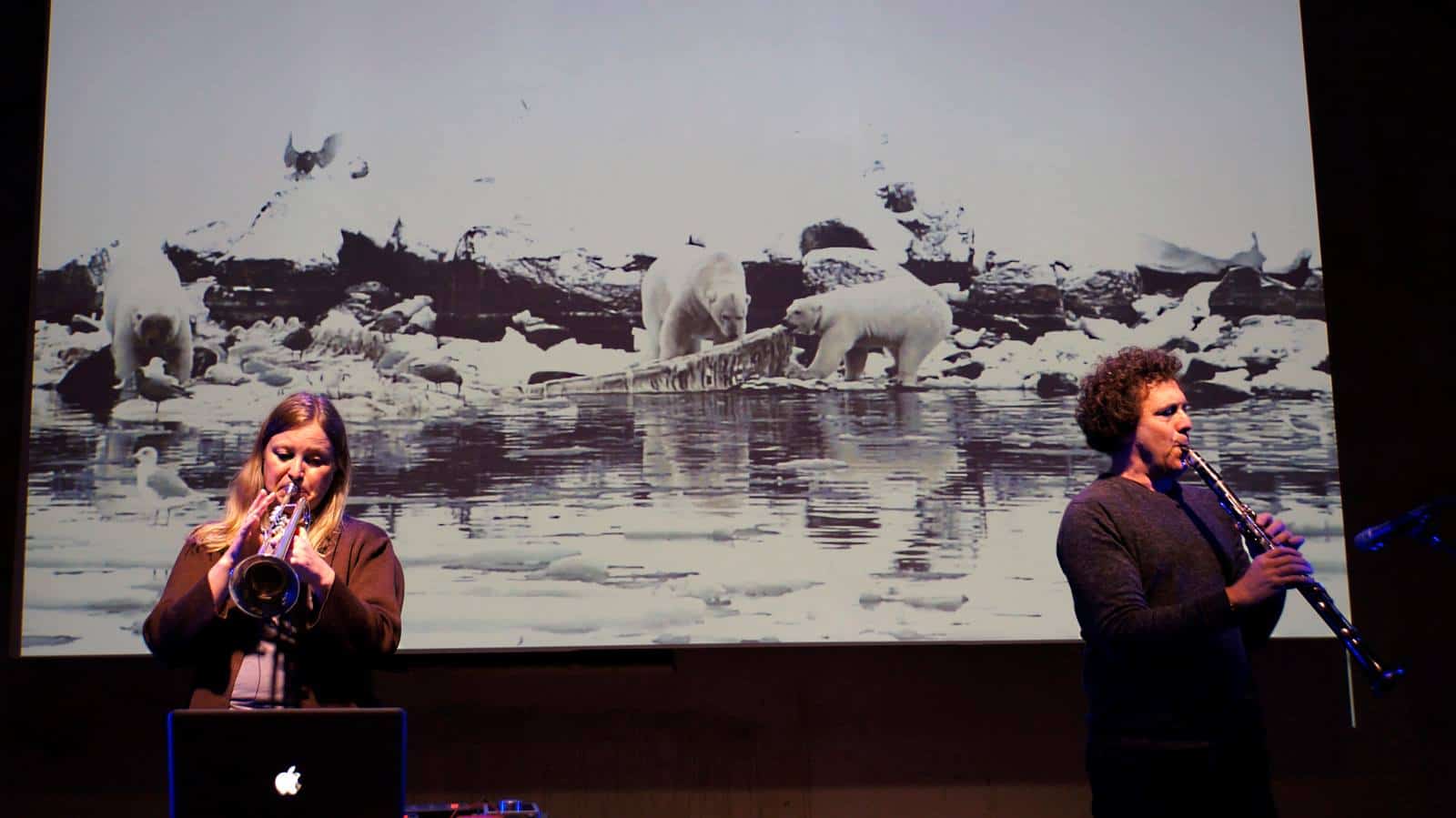 Photo by Stig Anderson/Bergen Kjøtt
I am starting the new year with retrospect meaning that I will now write about every session from 2016 that I have not had the time to write about yet, including several sessions from the months before I started the blog. I will start with the most recent, the Bergen Kjøtt concert.
I have introduced David before, in this post, since we had a session together with Marilyn Crispell when I visited New York in August 2016 as an inspiration trip for the work "Lyden av Vann" (sound of water). In addition to the session with Marilyn, David was helping me with some soundcollages for the piece, which were to be made from sounds of children playing with water. Processing and incorporating nature sounds in music and art is something David do a lot, so I got some good advice.
Anyways, later in the autumn David told me he was coming to Norway to work on an exhibition on whales at the Bergen Natural History Museum. So we decided to see if it was possible for us to meet in Bergen for another duo session. We were hoping were that it would be possible to do a little guerilla gig somewhere. And what do I mean by guerilla gig? Because of the short notice, and it being just before Christmas it could be hard to convince a venue into booking/paying us, and convince an audience to come out and hear us, especially since it was not a Christmas concert.
But via some friends in Bergen, I made a lucky new aqaintance in Stig Anderson at the venue Bergen Kjøtt, who we would not have made it without. I wrote Stig an email a few weeks before Christmas, and told him about The Duos Project. He got interested in it and was happy to help hosting the event, and help with equipment and promo. He also took photos, ran the sound and some visuals that David had prepared. And Vestnorsk Jazzsenter helped us promote the concert. It turned out very well. It was very nice to see David and play with him again. There were 16 people in the audience and good vibes.
[soundcloud url="https://api.soundcloud.com/tracks/300892293″ params="color=ff5500&auto_play=false&hide_related=false&show_comments=true&show_user=true&show_reposts=false" width="100%" height="166″ iframe="true" /]
I was in doubt, both before the gig and after, if my musical contributions were interesting enough, and if it worked together. Listening to the recording afterwards, I was positively surprised. We do sound good together. Of course there is always room for reflection and improvement, that is the point of the Duos Project.
In preparing for the concert, I had thought of what sounds I wanted to use, and updated my Ableton Live-set with some new plugins. Also I tried to work out some issues with my setup, lately my Macbook and controllers had been acting up. Things were unpredictable. Suddenly one controller would stop working or it would decide to act on its own. I also had had some volume level issues, but I did not have much time to fix that, so I would have to deal with whatever happened.
I was thinking about whether I should prepare anything else. David and I was going to meet just a few hours before the gig. And this being the first live performance with the Duos Project, I was in a bit of doubt. I had only played with David once before, so I did not know excactly what to expect. In a bigger group setting, I could depend more on other people, while in a duo I would have to be dependable, and my equipment would have to work, at least to a certain level. Normally one choose between either to plan some structures on beforehand, or to make oneself as blank as possible.
David and I decided to go for the latter. The only thing we planned was that we should start with only acoustic instruments, and that we should play  a few shorter pieces instead of playing the whole set without stop. My own thoughts was to start slow and minimalistic with space and drones, and take it from there.
The last time we played, David had used Ipad and clarinets. This time, in addition to that, he had prepared some extra stuff on his Macbook, including visuals from some of his films. However, at the sound check, his Macbook crashed. The screen was white with a question mark. David however, seemed totally zen. He tried to fix it, but after rebooting in every possible way, and still getting the question mark, he had to give up. He still had his Ipad setup, so he used that. And some film material was possible to play via Youtube (not as professional-looking, but better than nothing). You have to make do with what you got.
I heard him mentioning something like athmosperic and electric conditions are unpredictable... I might have heard wrong, but at that point it felt comforting that someone else also was experiencing that some things were beyond control.
My own setup also acted up a bit during the session, but not to the extent that David experienced. The most obvious shortcoming on my part was that my electronics level was too soft compared to the other sound, which has happened a lot lately. When playing, I either can't get it loud enough, or I seem to perceive it as louder than it actually is, and then when listening back afterwards, it sounds too soft. The volume issues will be number one priority from now on.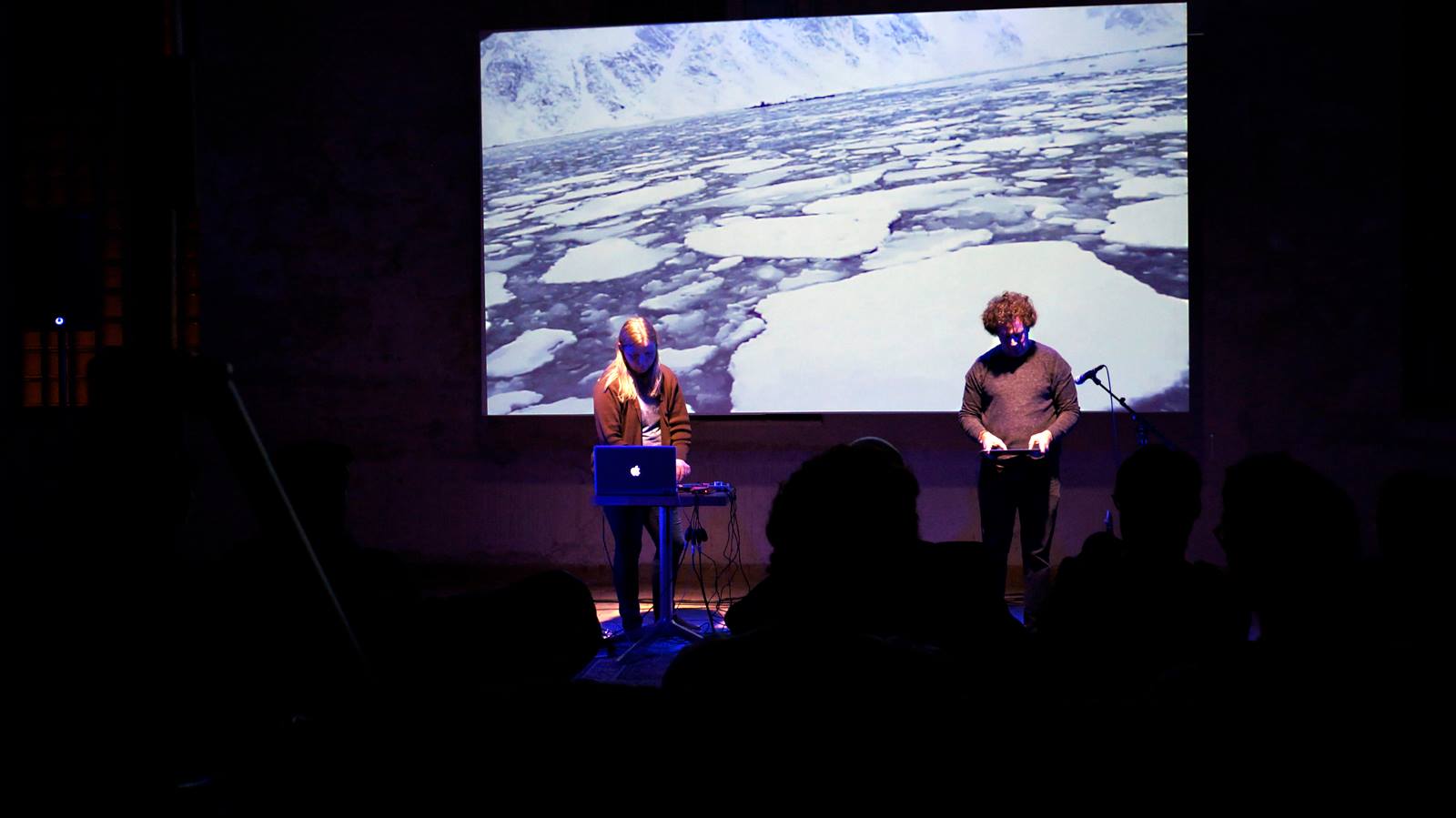 Photo by Stig Anderson/Bergen Kjøtt